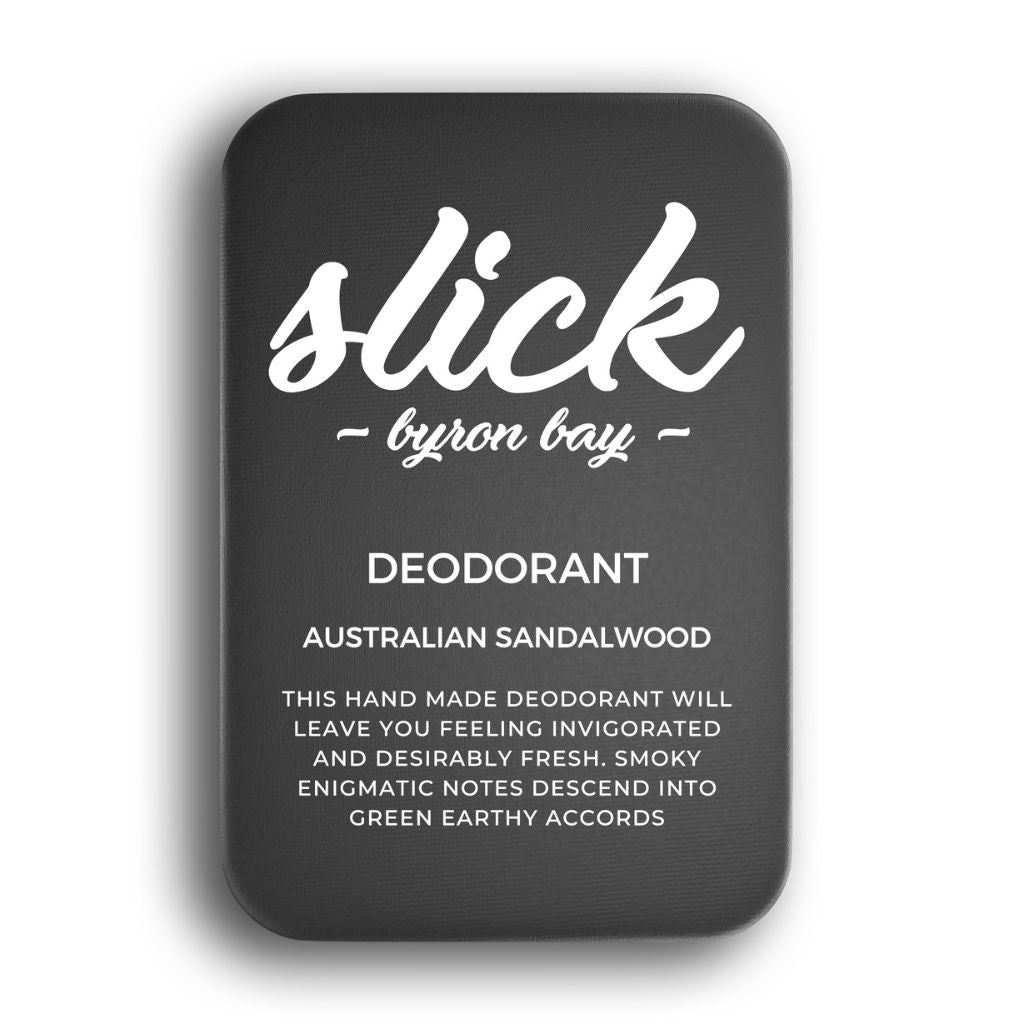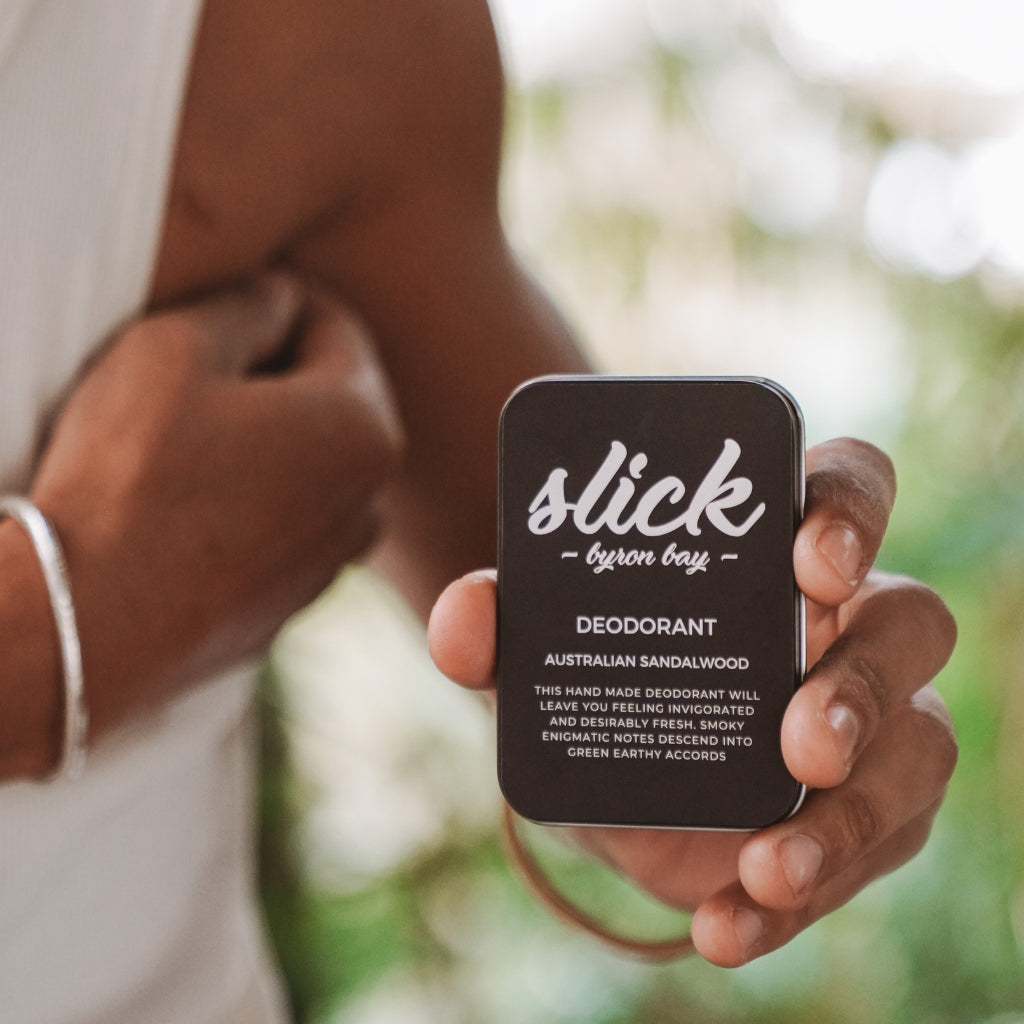 Size: 73ml
Introducing Slick Handcrafted Deodorant Paste, your natural choice for staying confidently fresh all day long. Crafted by hand amidst the pristine beauty of Byron Bay, our 73ml aluminium tin is packed with locally sourced, organic ingredients to keep you feeling clean and confident, the eco-conscious way.
Benefits:
All-natural formula for a gentle touch on your skin.

Long-lasting freshness to keep you confident from morning to night.

Easy-to-apply, non-greasy texture that absorbs quickly.

Locally sourced, organically grown ingredients for a guilt-free grooming routine.

73 delicious millilitres = Two months of armpit odour free living for everyone around you.

Rigorously tested with amazing scores for both effectiveness and sensitivity.
Our small-batch essential oil blends contain extracts of plants that were grown in our Byron Bay soil. You can't get these anywhere else.
Australian Sandalwood, with its smoky and enigmatic notes, evokes the serene beauty of the Australian outback. Let the scent of this precious wood envelop you, creating a sense of tranquility and harmony. (Patchouli*, Cedarwood, Myrhh, Frankincense & Australian Sandalwood*)
Evergreen, inspired by the lush forestry of Byron Bay, captures the essence of nature's embrace. Immerse yourself in the invigorating aroma of fresh florals and crisp green leaves. (Lavender, Chamomile, Rosemary, Lemongrass, Sage, Neroli, Eucalyptus*, Ginger, Lemon Ironbark*)
Maverick, a fragrance for the bold and adventurous, embodies the spirit of rebellion and individuality. With its unique blend of spicy notes and earthy undertones, Maverick exudes confidence and allure, making a statement wherever you go. (Sandalwood, Vetiver, Frankincense, Cardamom, Cape Chamomile, Grapefruit, Blue Cypress*)
* = Organic locally grown
$4.95 (2-8 Day) Standard
$7.95 (2-8 Day) Standard with Priority Processing
$12.95 (1-4 Day) Express
$15.95 (1-4 Day) Express with Priority Processing
All orders shipped via Australia Post
We provide a 100% money back satisfaction guarantee on all purchases. Just let us know if you are unsatisfied, so we can make things right.
Gently apply Slick Handcrafted Deodorant to clean, dry underarms for a refreshing, all-day scent. Suitable for daily use.
Slick Deodorant is a blend of nature's finest:

Shea Butter*: Nourishes and soothes your underarms, leaving them soft and comfortable.
Corn Starch: Absorbs moisture to keep you feeling dry and fresh.
Coconut Oil*: Offers natural antibacterial protection and a subtle, refreshing scent.
Beeswax*: Locks in freshness and ensures your deodorant stays put.
Bicarbonate Soda: Neutralises odour for all-day confidence.

* = Organic & Locally Sourced
Slick is committed to preserving our planet's beauty. Our aluminium tins are recyclable, and our local ingredient sourcing supports Australian farmers.