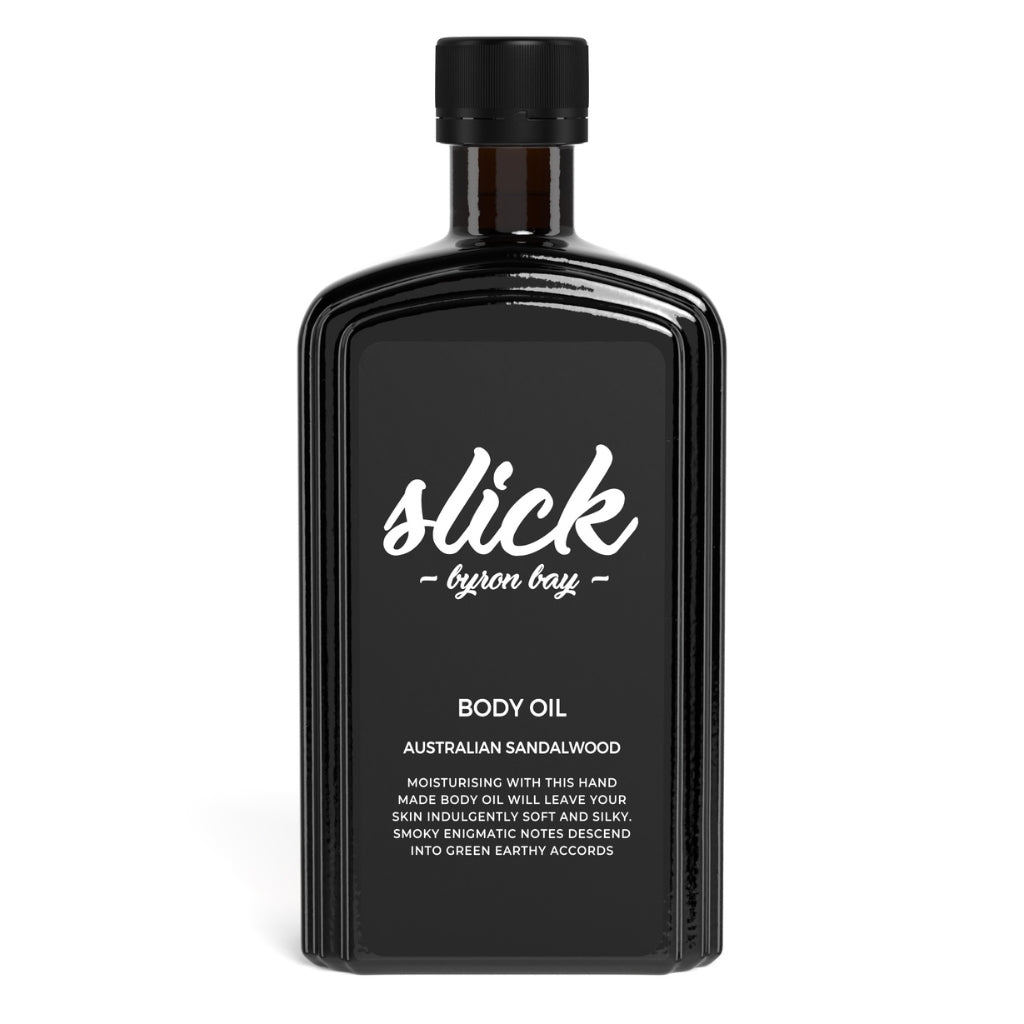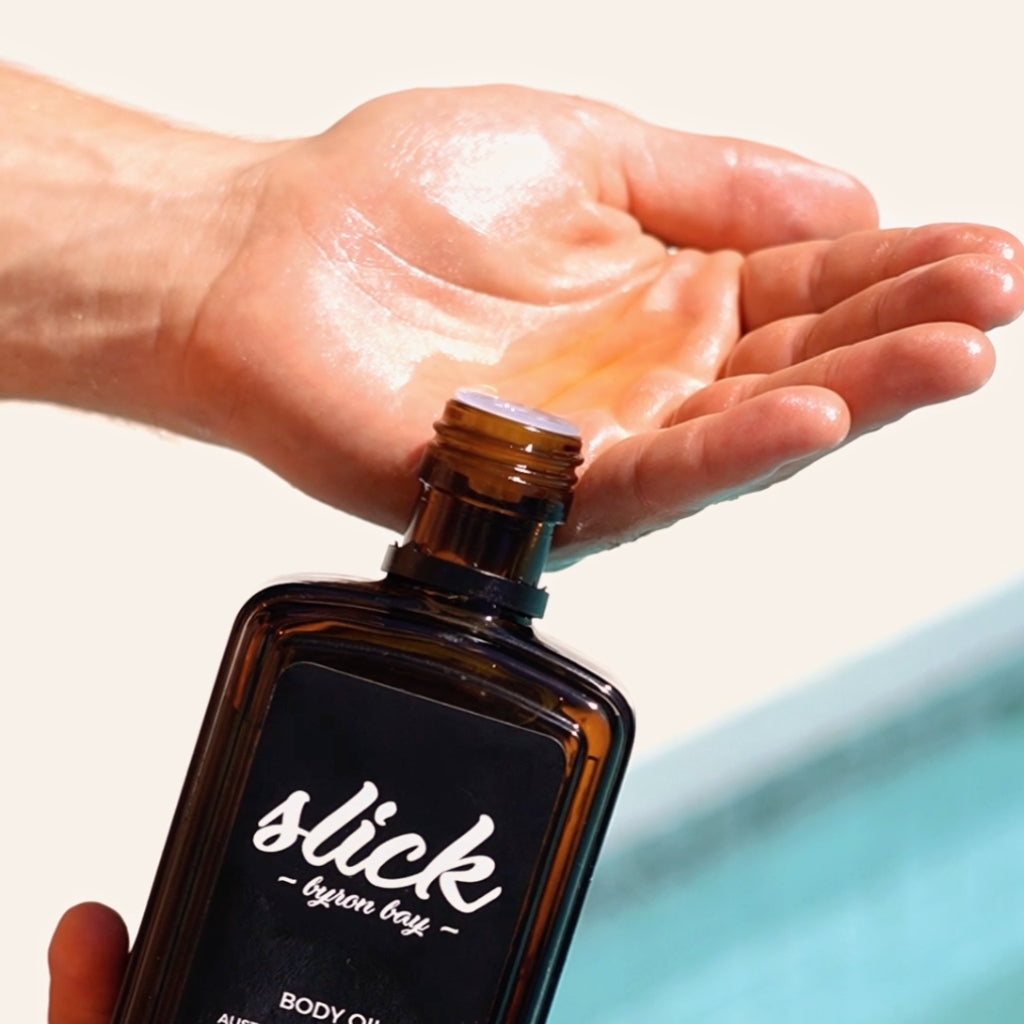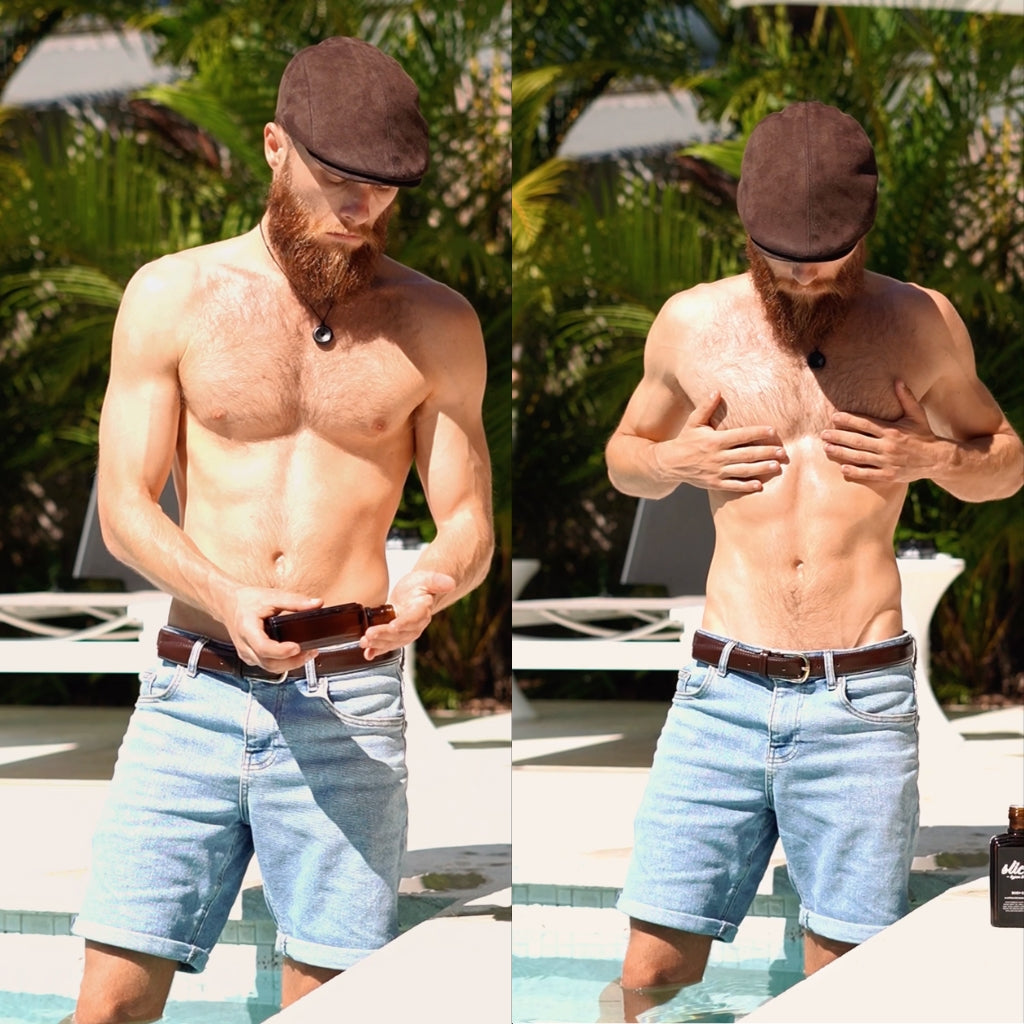 Size: 250ml
Elevate your skincare routine to new heights with Slick Handcrafted Body Oil. Crafted by hand in the pristine beauty of Byron Bay, our 250ml glass bottle is jam packed with vitamins, minerals and lipids that stand as a testament to nature's finest. We source our ingredients locally, ensuring that each drop is a celebration of Australia's organic bounty.
Benefits:
Deep hydration that lasts all day, leaving your skin gloriously supple.

Improved skin texture and elasticity, revealing a revitalised you.

A non-greasy formula that feels like a soothing caress.

Aromatherapy benefits that soothe your senses and transport you to a tranquil sanctuary.

Locally sourced, organically grown ingredients that connect you with the beauty of Australia.
Our small-batch essential oil blends contain extracts of plants that were grown in our Byron Bay soil. You can't get these anywhere else.
Australian Sandalwood, with its smoky and enigmatic notes, evokes the serene beauty of the Australian outback. Let the scent of this precious wood envelop you, creating a sense of tranquility and harmony. (Patchouli*, Cedarwood, Myrhh, Frankincense & Australian Sandalwood*)
Evergreen, inspired by the lush forestry of Byron Bay, captures the essence of nature's embrace. Immerse yourself in the invigorating aroma of fresh florals and crisp green leaves. (Lavender, Chamomile, Rosemary, Lemongrass, Sage, Neroli, Eucalyptus*, Ginger, Lemon Ironbark*)
Maverick, a fragrance for the bold and adventurous, embodies the spirit of rebellion and individuality. With its unique blend of spicy notes and earthy undertones, Maverick exudes confidence and allure, making a statement wherever you go. (Sandalwood, Vetiver, Frankincense, Cardamom, Cape Chamomile, Grapefruit, Blue Cypress*)
* = Organic locally grown
$4.95 (2-8 Day) Standard
$7.95 (2-8 Day) Standard with Priority Processing
$12.95 (1-4 Day) Express
$15.95 (1-4 Day) Express with Priority Processing
All orders shipped via Australia Post
We provide a 100% money back satisfaction guarantee on all purchases. Just let us know if you are unsatisfied, so we can make things right.
Sweet Almond Oil: Nourishes and softens your skin, leaving it silkier than ever.
Fractionated Coconut Oil: Locks in moisture without a trace of greasiness, revealing your skin's true luminosity.
Hemp Seed Oil*: Abundant in omega fatty acids, it replenishes and rejuvenates your skin.
Jojoba Oil*: Balances your skin's natural oils, promoting a youthful and radiant complexion.
Rosehip Seed Oil: Fades imperfections, unveiling a smoother and more even skin tone.
Vitamin E: A powerful antioxidant blend that safeguards your skin from environmental stresses.
Essential Oils Magic: A symphony of Patchouli*, Cedarwood, Myrrh, Frankincense, and Australian Sandalwood* essential oils provides an enchanting, grounding aroma that transports you to the heart of nature.

* = Locally Sourced Organic
Slick is committed to preserving our planet's beauty. Our glass bottles are recyclable, and our local ingredient sourcing supports Australian farmers.
Gently massage Slick Handcrafted Body Oil onto clean, damp skin. Let the enchanting scent and nourishing oils envelop you in a cocoon of luxury. Suitable for daily use.