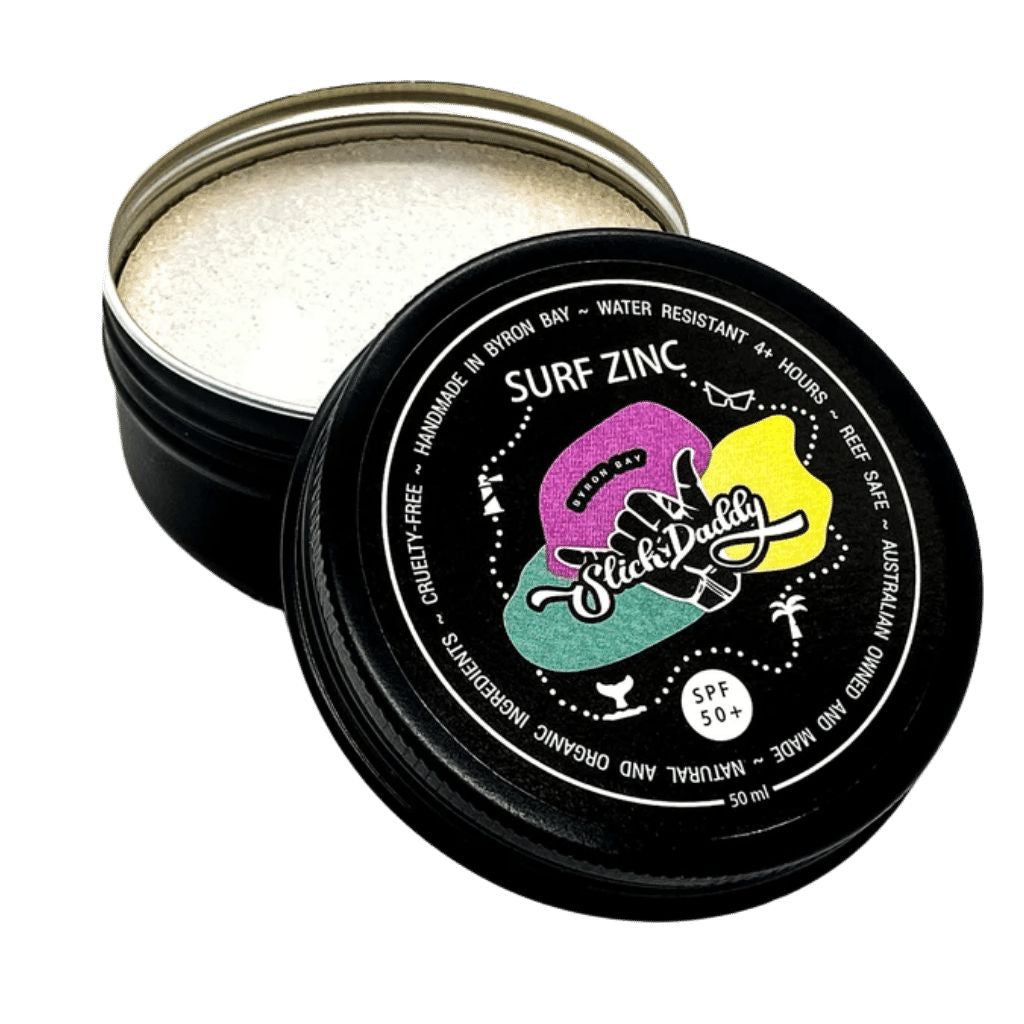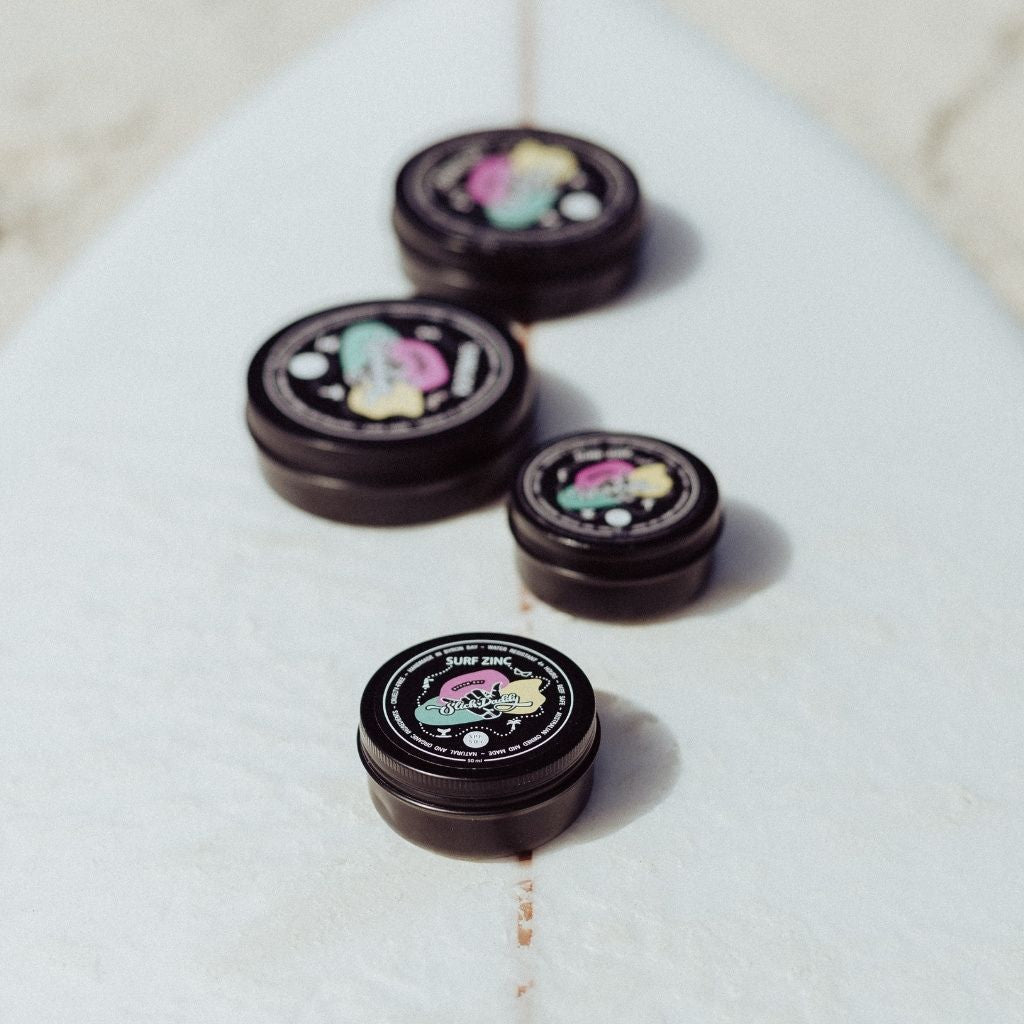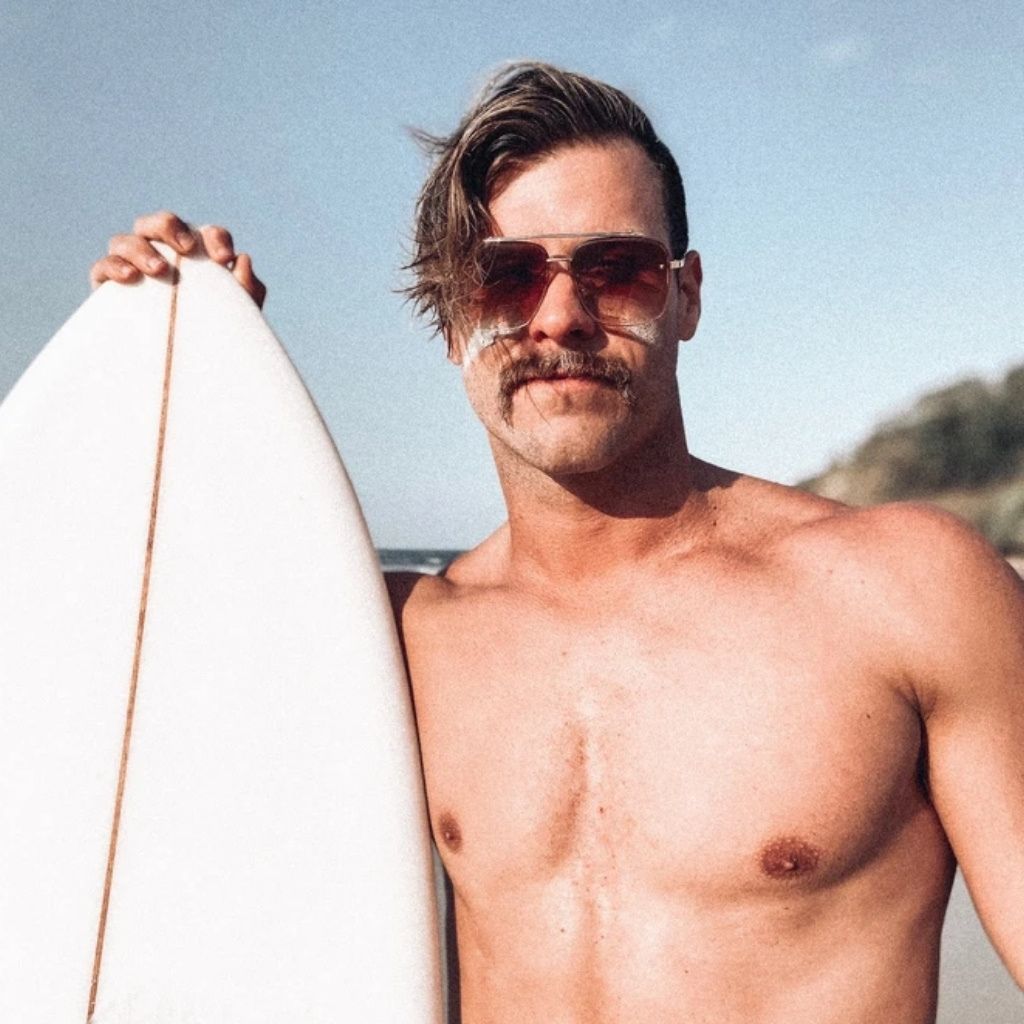 Size: 45ml
Handcrafted with care amidst the pristine shores of Byron Bay, this 45ml aluminium tin holds the power of locally sourced, organic ingredients to safeguard you against the sun's rays. Take on the surf with confidence, knowing you're protected by the best of nature. Slick Reef-Safe Surf Zinc is your key to fearless adventures in the sun and sea.
Benefits:
Ultra-high SPF to shield your skin from the sun's most potent rays
A waterproof formula that endures even the most rigorous surf sessions
Nourishing ingredients that keep your skin soft and moisturised.
A natural tint for a touch of personal style without compromising protection.
Reef-safe and ocean-friendly, aligning with your love for the sea.
Our small-batch essential oil blends contain extracts of plants that were grown in our Byron Bay soil. You can't get these anywhere else.
Australian Sandalwood, with its smoky and enigmatic notes, evokes the serene beauty of the Australian outback. Let the scent of this precious wood envelop you, creating a sense of tranquility and harmony. (Patchouli*, Cedarwood, Myrhh, Frankincense & Australian Sandalwood*)
Evergreen, inspired by the lush forestry of Byron Bay, captures the essence of nature's embrace. Immerse yourself in the invigorating aroma of fresh florals and crisp green leaves. (Lavender, Chamomile, Rosemary, Lemongrass, Sage, Neroli, Eucalyptus*, Ginger, Lemon Ironbark*)
Maverick, a fragrance for the bold and adventurous, embodies the spirit of rebellion and individuality. With its unique blend of spicy notes and earthy undertones, Maverick exudes confidence and allure, making a statement wherever you go. (Sandalwood, Vetiver, Frankincense, Cardamom, Cape Chamomile, Grapefruit, Blue Cypress*)
* = Organic locally grown
$4.95 (2-8 Day) Standard
$7.95 (2-8 Day) Standard with Priority Processing
$12.95 (1-4 Day) Express
$15.95 (1-4 Day) Express with Priority Processing
All orders shipped via Australia Post
We provide a 100% money back satisfaction guarantee on all purchases. Just let us know if you are unsatisfied, so we can make things right.
Apply Slick Reef-Safe Surf Zinc generously to your face, neck, and any exposed skin areas before hitting the waves. Reapply as needed for uninterrupted protection and a worry-free surf experience.
Slick Surf Zinc boasts a powerful blend of nature's armour

- Zinc Oxide: Provides ultra-high SPF protection, guarding your skin against the harshest sun rays.
- Coco Caprylate: Creates a silky, water-resistant barrier that stays put, even in the most challenging conditions.
- Beeswax* and Lanolin: Lock in moisture and prevent windburn, ensuring your skin stays soft and supple.
- Shea Butter*: Nourishes deeply, leaving your skin feeling hydrated and healthy.
- Cacao Powder* and Coloured Kaolin Clay: Offer a natural tint and fragrance that blends seamlessly with your skin, allowing you to express your unique style while staying protected.

*=Locally Sourced Organic
Slick is committed to preserving the beauty of our oceans. Our reef-safe formula is free from harmful chemicals, ensuring your sunscreen doesn't harm the very environments you love to explore. Our aluminium tins are recyclable, and our locally sourced, organically grown ingredients support Australian farmers.