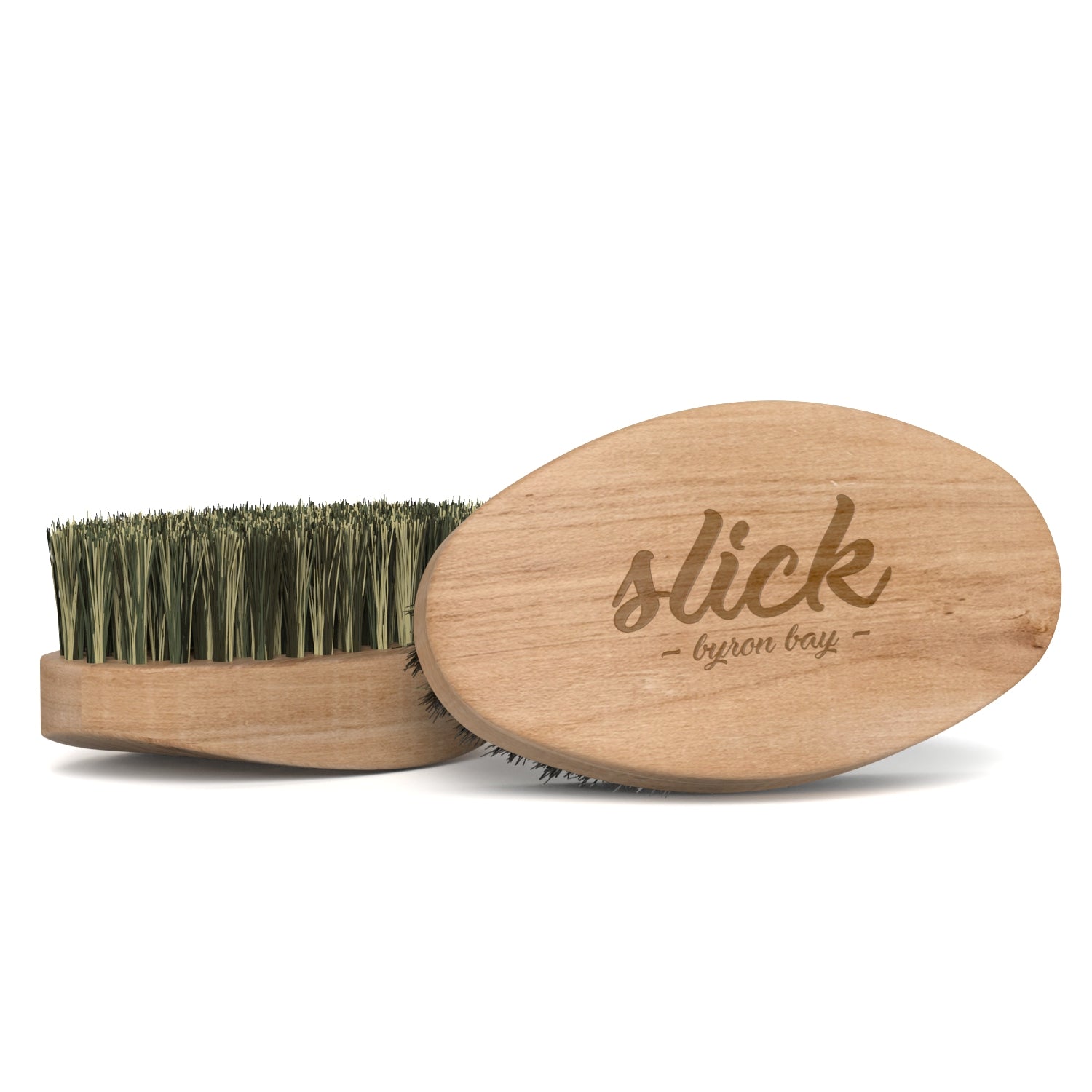 Beard Brush - 100% Boar Bristle
Elevate your grooming routine with the Slick Premium Beard Brush, a testament to natural refinement and quality craftsmanship. Designed by Slick, an all-natural brand, this brush is a testament to the brand's commitment to excellence.

Benefits:
Boar bristles gently massage the skin, promoting healthy hair growth
Helps distribute oils and balms evenly, keeping your beard soft and lustrous
Pear wood handle provides a comfortable grip for precise grooming
Ideal for taming unruly or coarse beard hair, maintaining a polished look
Our small-batch essential oil blends contain extracts of plants that were grown in our Byron Bay soil. You can't get these anywhere else.
Australian Sandalwood, with its smoky and enigmatic notes, evokes the serene beauty of the Australian outback. Let the scent of this precious wood envelop you, creating a sense of tranquility and harmony. (Patchouli*, Cedarwood, Myrhh, Frankincense & Australian Sandalwood*)
Evergreen, inspired by the lush forestry of Byron Bay, captures the essence of nature's embrace. Immerse yourself in the invigorating aroma of fresh florals and crisp green leaves. (Lavender, Chamomile, Rosemary, Lemongrass, Sage, Neroli, Eucalyptus*, Ginger, Lemon Ironbark*)
Maverick, a fragrance for the bold and adventurous, embodies the spirit of rebellion and individuality. With its unique blend of spicy notes and earthy undertones, Maverick exudes confidence and allure, making a statement wherever you go. (Sandalwood, Vetiver, Frankincense, Cardamom, Cape Chamomile, Grapefruit, Blue Cypress*)
* = Organic locally grown
$4.95 (2-8 Day) Standard
$7.95 (2-8 Day) Standard with Priority Processing
$12.95 (1-4 Day) Express
$15.95 (1-4 Day) Express with Priority Processing
All orders shipped via Australia Post
We provide a 100% money back satisfaction guarantee on all purchases. Just let us know if you are unsatisfied, so we can make things right.
Our premium beard brush is made from 100% boar bristles, known for their natural strength and resilience. The handle, carved from pear wood, exudes a classic, timeless charm. While the brush is made in China, Slick ensures the highest standards of quality in every piece is hand packaged and assessed here in Byron Bay.
Slick's Beard Brush does more than just groom. It stimulates new growth from follicles on your face, promoting a fuller, healthier beard. Additionally, it helps in taming even the most stubborn beard hairs, ensuring your facial hair always looks its best.
Slick is dedicated to providing all-natural grooming solutions, and this beard brush is no exception. It's a testament to the brand's commitment to harnessing nature's finest for your grooming needs.